The rise in emergency charges at Hong Kong's public hospitals has failed to cut queues and waiting times for urgent cases, despite a drop in the total number of patients, according to new figures.
The authority's latest figures, released on Friday, showed about 2,079,000 people visited A&E departments between July 2017 and June 2018, down 4.4 per cent year on year. Of them, 61 per cent – or 1,261,000 – were non-urgent cases, a drop from 63 per cent the previous year. About 5,000 cases were uncategorised.
Dr Vivien Chuang Wai-man, the authority's chief manager of infection, emergency and contingency, said: "We can see that the new A&E charge helps deter some of the non-urgent patients using emergency services and we can allocate more resources and manpower to urgent patients who need emergency services."
But she said the number of urgent cases rose by 11,000 to 813,000 in the past year, and the average waiting time had lengthened from 24 minutes in 2015 to 26 minutes in 2018, because more elderly people used emergency ward services.
She said the situation worsened particularly after the authority started waiving fees for old-age living allowance recipients over 75, in July last year.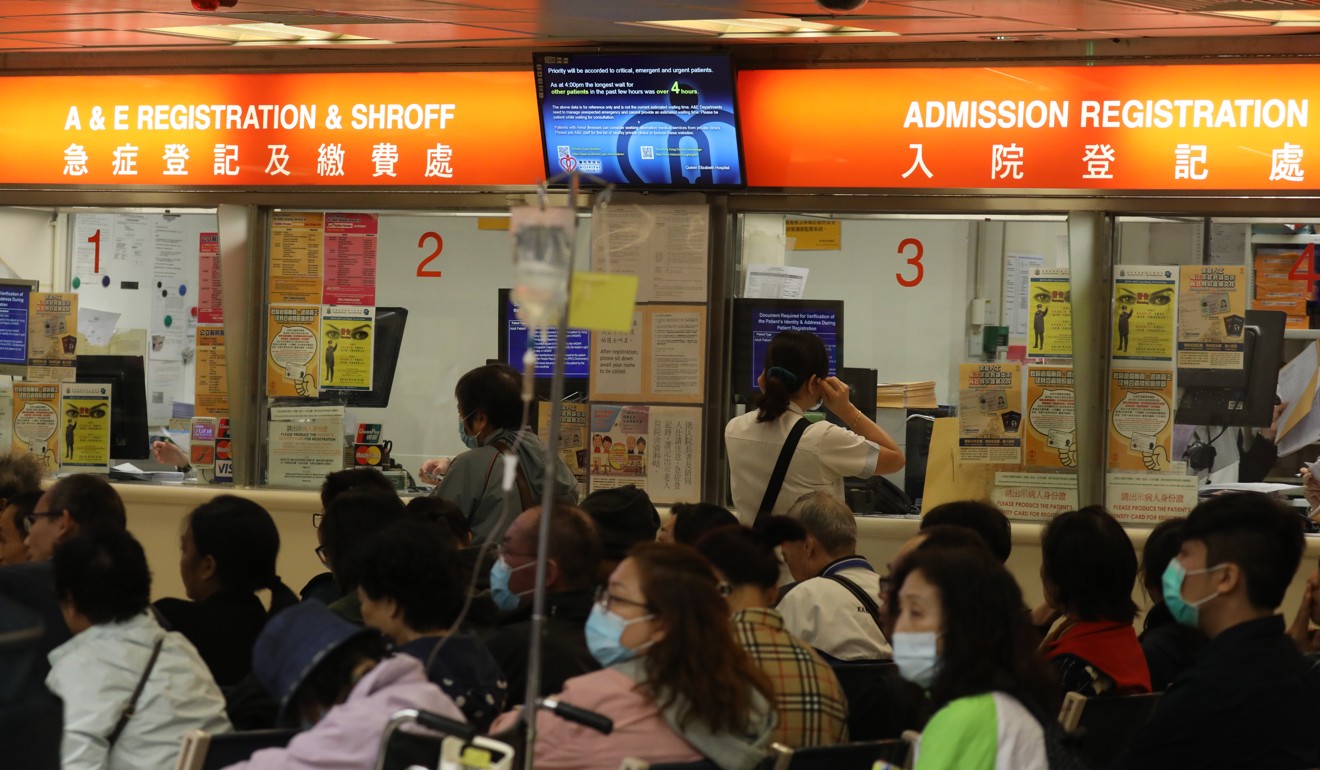 As the population ages, there are more elderly people suffering severe illnesses such as heart disease and broken bones, and so ending up on emergency wards, Dr Li Kai-ming, chairman of the authority's coordinating committee for A&E, said.
Li said it took longer to see to older patients because of communication problems and the time it takes doctors to look at their medical records. He said the situation was "not ideal" and partnerships with other medical departments such as geriatrics, and increased manpower were required to cater to the medical needs of the elderly.
To ease the situation, Li said, they renewed the recruitment of private doctors and nurses to work part time at A&E, starting from November.
But he did not reveal the number of doctors they planned to recruit, saying it would depend on the number of applicants.
Chuang said the authority had no plan to raise the A&E charge again, because they had to consider the city's poor.
Dr Pierre Chan, who represents the medical sector in the Legislative Council, said that while the fee rise helped cut the total number of patients, it was not effective.
Man kicked off operating table in mid-surgery, told to pay US$2,200 bill
"Only about 15 fewer patients are using emergency services at each A&E unit every day in Hong Kong, which is not a significant number," he said.
He added that even if the charge were raised to HK$200 the increase would still fail to divert patients to private clinics, because public hospitals provide specific services such as blood tests and X-rays.
Lawmaker Ben Chan Han-pan said the government could also consider stepping up partnerships with private clinics by referring more non-urgent cases to them.
scmp