Residents of Kowloon City where as many as 10,000 mainland day-trippers on cheap Hong Kong tours have disrupted local lives could soon get a respite after authorities on Thursday pledged to come down hard on illegal parking and unseemly foot traffic.
Other areas also grappling with an influx of day-trippers include Hung Hom and Kwun Tong.
In To Kwa Wan, local residents have complained of being fed up with the crowds, whose buses have added to vehicle congestion and queues at restaurants, with some shops now catering exclusively to mainlanders. Locals have also claimed to be saddled with higher prices for daily necessities and food, given the higher demand from tourists.
"Tour buses are parked in the middle of roads, which not only worsens traffic jams in the area but also makes it dangerous for passers-by to cross roads," Garfield Ku, a local resident in her 30s who lives in a residential building, said.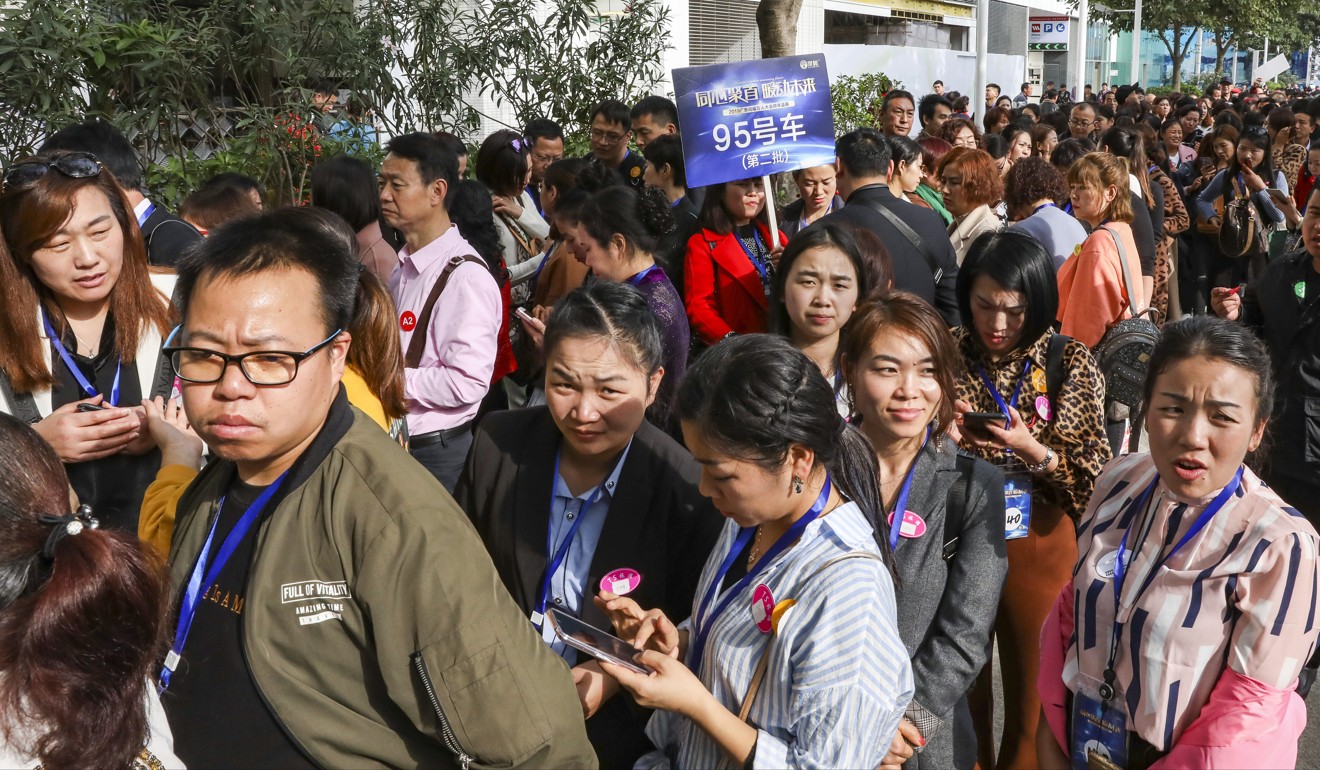 "Tourists randomly throw rubbish such as cigarette butts on the streets and flower beds, and they spit a lot.
"We don't hate them, but they have seriously affected our normal life," she added. "Here is not a tourist attraction. The government should do something about it, such as limiting the number of tourists to a reasonable quota."
Biggest pro-Beijing party in Hong Kong calls again for curbs on mainland Chinese tourists to city
Mainland Chinese visitors, including both those staying overnight and on day trips, are the biggest spenders in Hong Kong and shelled out a total of HK$189.36 billion (US$24.18 billion) last year, a 1.4 per cent rise from 2016, according to the Hong Kong Tourism Board. They account for 80 per cent of the city's inbound tourists.
To Kwa Wan has become a one-stop shop for all kinds of entertainment, from cheap restaurants to stores, with some old industrial buildings converted into shopping centres for tour groups.
Many visitors are on tours led by their employers. They only pay a small sum to cover transport costs while their companies foot the rest of the bill.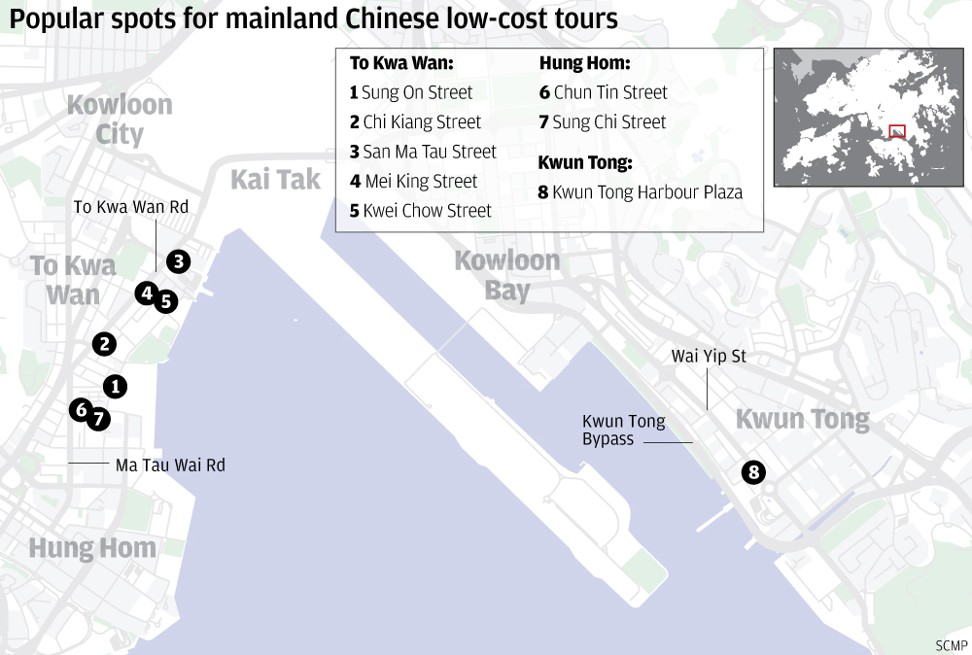 "Our company organised a tour for more than 13,000 employees for year-end celebrations. We are spending one day in Hong Kong and the rest in Macau and Zhuhai," said Huang Xiuyan, 40, who came from Wenzhou in east China's Zhejiang province.
"I spent about 3,000 yuan (US$435) during one day in Hong Kong, most of it on skincare products."
Qiu Yumei, 38, from Changsha in central Hunan province, said she spent about 2,000 yuan on a branded watch.
Ctrip is not only bringing the world to Chinese tourists, the online travel agent is changing the industry too
"I only paid 200 yuan for the three-day tour while the company paid 4,800 yuan for each person's expenses," she said.
In Hung Hom, there were mixed feelings among shop owners and tourists.
Visitor Yang Gang, 65, from Beijing, emerging from a pharmacy on Sung Chi Street, said: "My wife already spent more than 30,000 yuan on jewellery, accessories, electronic devices and other things in Hong Kong alone. A gold bracelet my wife bought cost more than 10,000 yuan."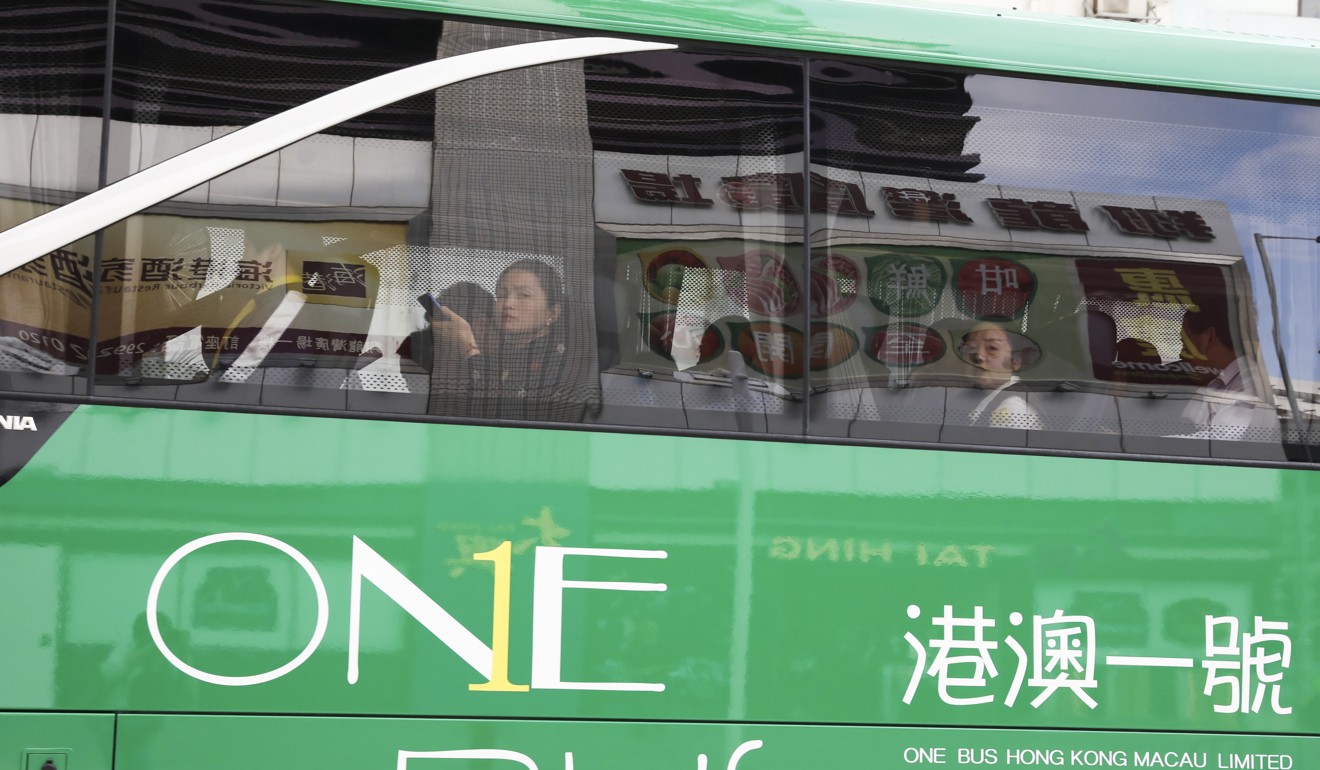 Choi Chong-fung, 56, who has owned a stationery store next to the pharmacy for the past 20 years, said: "The increasing number of mainland tourists has severely impacted my life and business. All the tourists waiting to enter the pharmacy stand in front of my store, and I can't maintain normal business as local residents stay away from the crowds here."
He said rents had jumped about 20 per cent because "the landlord saw the increasing number of customers here. But in fact, they are here to buy pharmaceutical products, not my products".
Kowloon City district councillor Kwan Ho-yeung said the area risked being paralysed.
Ban on mainland Chinese tourists using mega bridge to Hong Kong at weekends only in effect for 2 days, Guangdong's top tourism official says
"For more than a decade the district of To Kwa Wan has received on average 100 tour groups a day, which at peak times in recent months surged to 300," Kwan said. "The business owners might be happy, but the residents are suffering."
Democratic Alliance for the Betterment and Progress of Hong Kong (DAB) chairwoman Starry Lee Wai-king made a similar call on Christmas Eve jointly with Pun Kwok-wah, a party member who chairs Kowloon City District Council. Pun warned of escalating conflicts after some angry residents threw water bombs at visitors.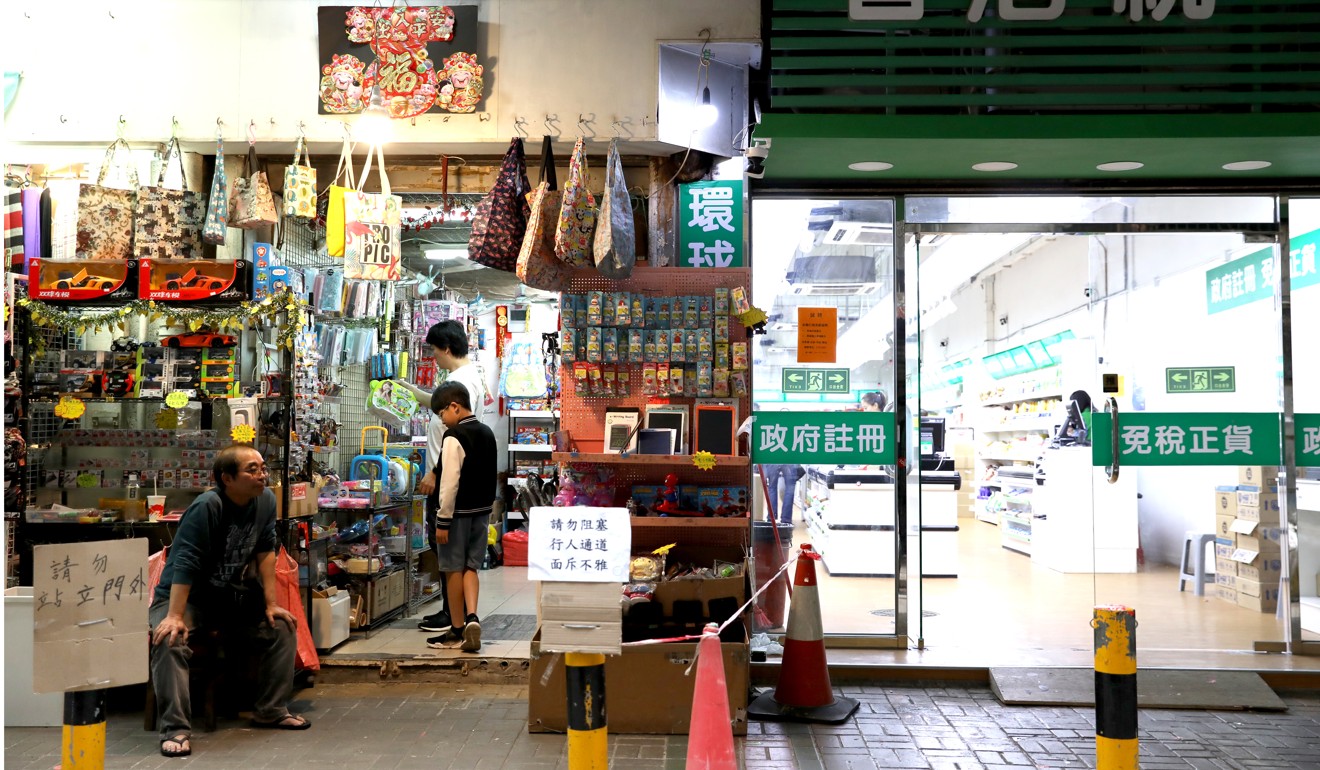 Lee said local residents had been pushed to their limits as a daily average of more than 10,000 mainland visitors shopped and dined in the district, according to estimates based on industry numbers.
It marked a continued about-face from the DAB, which finds itself on the unusual side of pro-democracy politicians' concerns on the fraught issue.
How women are changing the way Chinese tourists travel – financial independence sends females further afield
At a Kowloon City district council meeting on Thursday with government and industry bodies, police promised to ban coaches from picking up or dropping off tourists during rush hour at black spots such as Sung On Street, Chi Kiang Street, San Ma Tau Street, Mei King Street and Kwei Chow Street.
A team of nine police officers will be deployed to direct tour coaches to designated parking spaces.
Bernard Chan Pak-li, an undersecretary at the government's commerce bureau and a DAB member, said a registration system for shops serving mainland tourists would be in place after the Travel Industry Authority was founded in 2019.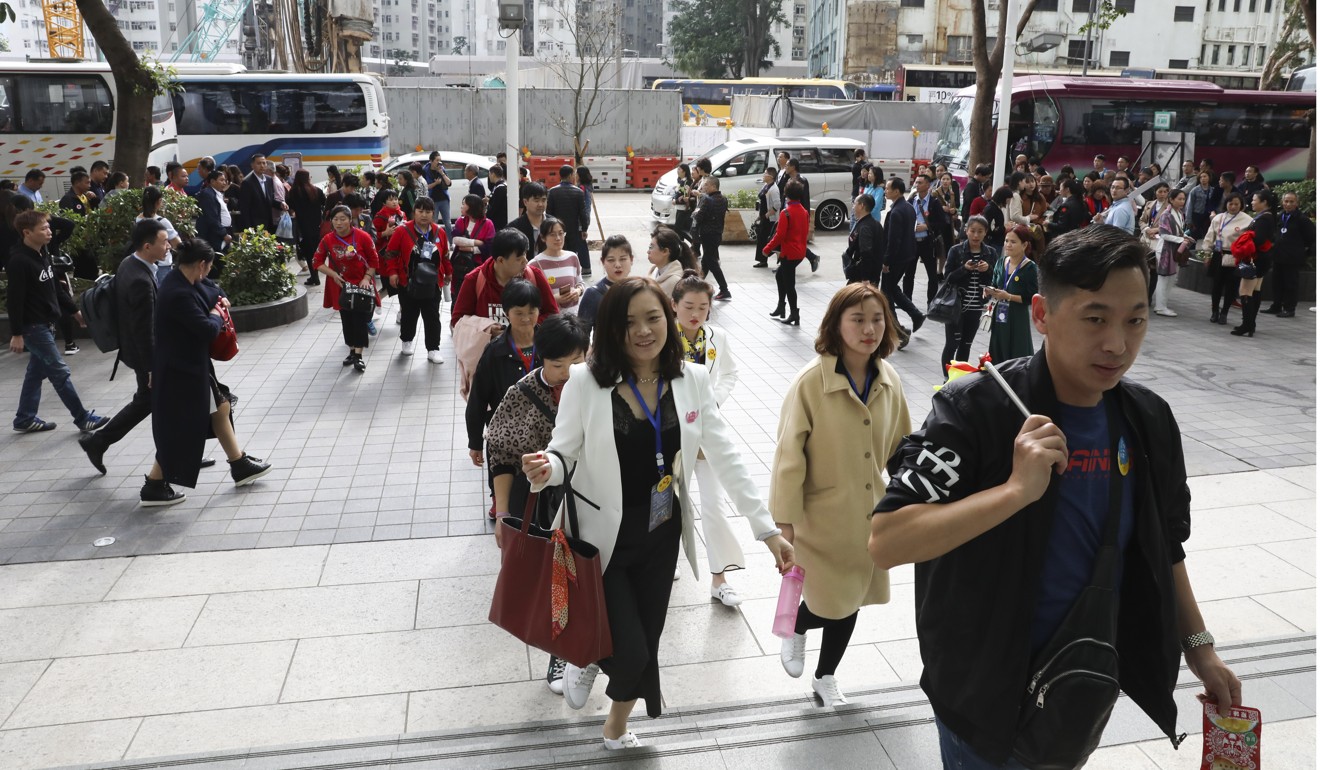 "There will be administrative measures managing the flow of visitors and vehicles to registered shops and restaurants," Chan said. "If the shops and restaurants fail to comply with our rules, they may find it difficult to renew their registration."
Chan also promised that the new authority would work on reducing low-cost tours to the city.
Jason Wong Chun-tat, chairman of the Travel Industry Council (TIC), said its committee on shopping-related practices would conduct studies on a points deduction system for shops under its refund protection scheme, for stores that have been frequently complained about.
Save Discovery Bay! Residents fear their expat haven is turning into a Chinese tourist trap
Lawmaker Yiu Si-wing, who represents the tourism sector, said a reporting mechanism should be put in place if the number of tour groups reached a threshold on a certain day. The TIC could inform the groups and authorities ahead of time so that police, restaurants and shops could better coordinate crowd control measures.
At Hang Cheong Lau, a local restaurant serving Hakka cuisine in To Kwa Wan, some 90 per cent of the customers are with mainland tours. One of the restaurant's managers, surnamed Wu, said that despite the good business, he would not mind better crowd control.
"Our business is open to both locals and mainland tourists," Wu said. "It would be better if it were less crowded, that way residents here would not feel disturbed."
scmp