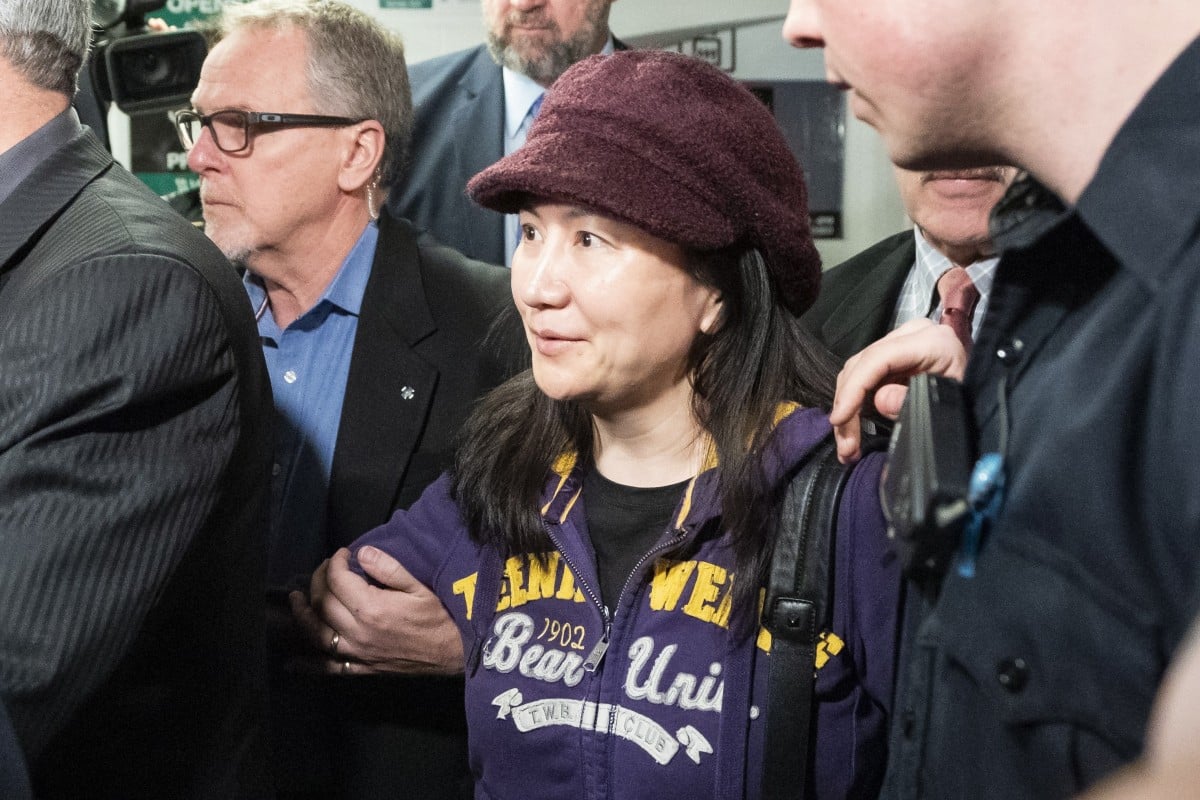 The United States is seeking extradition of Huawei chief financial officer Meng Wanzhou after she was detained in December by Canadian authorities. Photo: EPA
It is 5pm on Thursday evening in Killarney, a rural community in Canada's Manitoba province, and Scott Kroeker is about to call it a day.
"It is warming up here, we're at a balmy -12 degrees [Celsius] (10 Fahrenheit), it's getting better – It's been -25 all week," he said, explaining that the blankets of snow that cover his 4,500 acres of farmland will soon begin to thaw, after which he had planned to plant the canola seeds for the year ahead.
The Kroeker family farm has been growing canola since the mid-1970s and has kept busy through the winter, using heaters to keep the engines of their grain trucks warm as they hauled harvested grain into the vehicles.
The canola is then driven to huge concrete grain elevators – massive storage – where it sits before its transfer to railway wagons, which take it to the Port of Vancouver. It is then a six day journey to Shanghai, where much of the crop now ends up, helping meet China's growing demand for canola oil, used predominantly for cooking.
But just as farmers were looking forward to a thaw in the bitter Canadian winter, a different sort of chill went through the community this week when
from the country's biggest exporter of canola, Richardson International.
The company had its canola exporting permit revoked on Tuesday on the grounds that some Canadian imports were contaminated with pests or bacteria
On Friday, China's customs confirmed the suspension of canola imports from Richardson International "and relevant firms" from March 1.
The General Administration of Customs said that local offices in Shanghai, Dalian, Nanning and Shenzhen had "detected harmful pests", local media reported, with the warning valid until further notice.
Throughout Canada's canola industry there is incredulity over China's explanation and fear over the repercussions. There is uniform belief that the ban is retaliation for the Canadian government's
the chief financial officer of the Chinese technology giant, Huawei, an accusation the Chinese government has denied.
"It is just too coincidental, we see through it," said Don Leitch, president of the Business Council of Manitoba.
"The overwhelming feeling, from our farmers up to our government, is that this is not a public safety issue, nor is it about the health of the grain. Our quality control standards are very high, we would not jeopardise our international reputation by sending someone bad grain."
It is just too coincidental, we see through it. The overwhelming feeling, from our farmers up to our government, is that this is not a public safety issue, nor is it about the health of the grain.
Should the ban remain in place or be extended to other companies, it could devastate the rural economies of Canada's western prairies, where distinctive yellow canola flowers dominate the horizon when in bloom.
Farmers here have become reliant on selling canola to China, and the planting season is just around the corner.
It is difficult to overstate the importance of canola to Canada. Indeed, the word canola is a contraction of the words Canada and oil. Canola is a genetically-modified form of rapeseed that was developed in a University of Manitoba laboratory in the early 1970s. It is well-suited to the prairie soils of Manitoba, and as well as the nearby provinces of Saskatchewan and Alberta, where it is also heavily farmed.
Canada is the world's largest exporter, accounting for more than 30 per cent of the global market. Canola exports generate C$26.7 billion (US$19.9 billion) for the Canadian economy every year, with about 21 million tonnes exported to overseas markets.
"It is a very large crop, very important to farmers cash flow. There's 43,000 farmers in Canada growing this. When we see the disruption in China, we see not just Richardson, but the risk and uncertainty of a 4.5 million tonne export customer," said Rick White, CEO of the Canola Growers Association.
For many, canola is the ultimate symbol of Canadian agriculture: clean and healthy, innovative and exportable.
"We've developed this commodity and created a demand for it, where there wasn't one. We pride ourselves on being the architect," said Sylvain Charlebois, a professor in food distribution and policy at Dalhousie University in Halifax, Nova Scotia.
If true, by targeting canola exports, the Chinese government has, in a sense, gone for the jugular – targeting a product of national pride and importance. The action has drawn comparisons with China's imposition of import controls on Norwegian salmon, apparently in retribution for the Nobel Peace Prize being awarded in Oslo to the Chinese dissident, Liu Xiaobo, in 2010.
"I saw China's decision as very forceful, measured, and very political – just because it was canola. Beyond the economics, and they are devastating for Canada, for the prairies, it is quite symbolic," Charlebois said.
Farmers trading with China are used to dealing with "hiccups", but this is a step beyond that. Sometimes, when the Chinese government is allegedly trying to boost its domestic grain markets, ships of Canadian grain are left waiting on the seas a couple of miles off the coast of Shanghai.
Having paid for the vessels by the day, this can be a costly business for companies such as Richardson, which was unavailable for comment. But this time, farmers feel they are dealing with something bigger.
I saw China's decision as very forceful, measured, and very political – just because it was canola. Beyond the economics, and they are devastating for Canada, for the prairies, it is quite symbolic.
Kroeker, the farmer in Killarney, said that he had been "blindsided in a lot of ways".
"It was a big surprise when all of a sudden they just shut it down, nobody saw that coming," he said.
Many farmers, Kroeker included, are "pretty committed" to growing canola next season and to rotate to another crop at this point would be expensive and wasteful. Farmers tend to buy their seed in the winter and seed the crop around the end of April – those who have not already bought next season's crop would be cutting it fine, but may now be able to shift to growing something other than canola.
Armin Neufeld is another Killarney-based farmer, with almost half of his 6,000 acres of farmland dedicated to growing canola. He too was caught off guard by Richardson's embargo, having already bought the seed for this year and planned to export a good portion to China through the company.
"We are pretty well committed for the next growing season and unless the price really goes bad we will continue with this and hope things get settled," he said. "If the price doesn't come back, we will definitely have to cut back production. We couldn't survive, there's no profit and we won't grow for a loss."
If the growers do not have a good year, it affects everyone from machinery producers, to fertiliser sellers and those that make seeds in laboratories.
TJ Schullman is a certified seed seller in Swan River, a town of under just over 4,000 near the Manitoban border with Saskatchewan, where he sells canola seeds, soybeans and corn.
"You ask how important canola is to us, and I can say with confidence that it is the backbone of our town, as well as for most small towns across western Canada," he said, adding that farmers are "aware of the political game China is playing, and hope for a positive outcome".
Many feel they have been dragged into a geopolitical dispute that is ostensibly between the US and China, and there is a sense of anger and powerlessness.
There is no one country who could replace Canada's export, but soybean oil could be used as a replacement product to canola oil. This has led to fears that as US-China trade war negotiations continue, China may start using soybean as a substitute, as it could be forced to purchase soybeans more as part of a trade deal.
"The soybean-US flip is quite possible," said Charlebois from Dalhousie University.
But above all, there is concern that if the canola disputes persists or develops, it could wreck the lives of thousands, if not millions, of people in rural Canada.
"Our town runs on agriculture, if we didn't have that there would not be much of a town, no reason to stay, and no way to make a living," said certified seed seller Schullman.
scmp