China's foreign ministry said on Monday it was still "processing" visa extension applications for several foreign correspondents affiliated with American media amid reports that more foreign journalists in China have been caught in the
ongoing spat between Beijing and Washington
.
Hua Chunying, head of the Ministry of Foreign Affairs' press department, tweeted in the afternoon that: "#CNN journalist and a few other #US journalists' visa extension applications are being processed, during which they can continue to live and work here with no problems at all."
"We would be glad to continue our excellent cooperation with the #US journalists here if the Chinese journalists are treated fairly in the US," she continued, adding that the US had delayed and denied visas of about 30 Chinese journalists and "expelled 60 in Mar, limited visas for all Chinese journalists to a max 90-day stay in May [and] has not approved visa extension of any of them."
CNN reported on Sunday that in the past week several foreign journalists, including its own reporter in Beijing, applied for routine renewal of their press credentials. They were handed a letter saying their applications were being processed rather than getting a new press card. Their visas were extended for about two months, much shorter than the one-year extension usually granted. Foreign reporters' credentials in China are tied with their visas.
The New York Times has had several of its correspondents expelled from China in recent months
as the spat with the US government unfolded. The New York Times reported that at least five journalists in four organisations – including The Wall Street Journal and Getty Images – had been affected in the latest episode.
The Chinese foreign ministry advised the affected journalists to carry the letter along with their expired press cards as proof of journalistic identity for now, CNN reported.
Both The Times and CNN said the US State Department had revealed on Sunday that American diplomats in Beijing were told by the Chinese foreign ministry about its impending measures of denying the visa renewals.
But at a later regular press briefing on Monday, foreign ministry spokesman Zhao Lijian denied Washington's claim, reiterating that the renewal applications were "being processed" and the ministry had already informed the US officially.
Zhao said Washington, however, had been withholding Chinese journalists' visa renewals.
"The visas of [Chinese correspondents in the US] had expired on August 6 and they had already applied for renewal long ago in accordance with the US authority's requirement. But so far not a single renewal was approved and their work and lives were hit with huge uncertainty," Zhao said, adding that Beijing had exercised restraint its reciprocal measures, such as visa validity periods.
"If the US insists on its improper measures, China will have no option but to respond appropriately to defend its legitimate rights," he said, without further elaboration.
US news organisations ask China to reconsider expulsion of their journalists 25 Mar 2020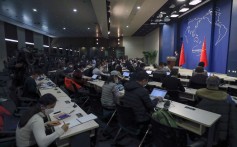 The two countries' relationship has continued to deteriorate since a trade war broke out between them in 2018. The rift has widened into virtually all dimensions, including issues relating to Hong Kong, Taiwan, geopolitics, defence, technology and public health.
In February, Beijing expelled three reporters from The Wall Street Journal after the paper published an opinion piece criticising China's response to the Covid-19 outbreak and with headlines that Beijing denounced as racist.
Washington has declared five Chinese state media outlets as
"foreign missions"
 and cut the number of Chinese nationals the outlets could employ in the US from 160 to 100.
Since then, both sides have escalated their restrictions on each others' journalists operating in host countries, including revoking more press credentials or cutting the period journalists' visas were valid.
The spat has extended to some Hong Kong-based foreign reporters' visa applications. The city's
Foreign Correspondents' Club
 raised its concern last month about "highly unusual" delays in renewing or securing visas in Hong Kong for some foreign journalists. The club said it "opposes using journalists' visas as a weapon in international disputes".
Tools like Google Trends are web-based, easy to use and remember to mention that they are entirely free.Combine your banner ads with search engine optimization and social media marketing, and your online business will grow the way you did not even know where it is possible.
You can place your banner on global high traffic websites via The Online Publishers "TOP" online banner advertising services.