China's Foreign Minister Wang Yi was due to arrive on Wednesday night in Thailand, a country central to Beijing's strategy for Asia at a time the kingdom is facing a double hit from a pandemic-flattened economy and political turmoil.
In the big superpower square-off between the US and
China
, Thailand plays an oversized role.
Bordering Laos, the kingdom is China's gateway to the Mekong region, while its endless coastline offers the promise of trade, ports, economic zones and mass tourism.
Thailand used to be staunchly in the US camp, bound together through defence and economic ties forged during the Vietnam war-era. But in recent years, it has edged cautiously under the umbrella of China, the regional giant with the investment funds Thailand desperately needs for its special economic zones as well as a vast, travel-hungry population ready to fill Thailand's empty resorts and beaches once the coronavirus recedes.
"Facing a sharp economic contraction exceeding even that of the Asian financial crisis, it is logical that China stands to play an important role in Thailand's economic recovery," said Sebastian Strangio, an independent analyst who writes about Southeast Asia.
Thailand's economy is expected to see contract as much as 10 per cent this year.
Beijing covets Thailand's strategic position as an artery for its Belt and Road Initiative
(BRI), with access to the Mekong River and high-speed railway connections throughout Southeast Asia, as well as long-term potential for a canal to allow cargo ships a short cut from the Gulf of Thailand to the Andaman Sea.
Bangkok was a city on edge ahead of Wang's scheduled arrival as rival protests for and against the unpopular government of Prime Minister Prayuth Chan-ocha occupied the historic heart of the city, where Wang and Prayuth are scheduled to meet Thursday.
Wang's trip, Strangio said, would make the statement that "China will support the Thai government as it weathers the present economic downturn".
"It is also a gesture of support as Prayuth's government faces down the demands of a rising pro-democracy movement," he added.
Beijing's embrace of Thailand also aims to remind the US that China is the dominant power in its own backyard.
"This visit will centre more on geopolitics and defence than in the past," said Paul Chambers, lecturer and special adviser for international affairs at Naresuan University in northern Thailand.
Washington recently upgraded its relations with the Mekong-area countries of Thailand, Vietnam, Laos, Cambodia and Myanmar through its Lower Mekong Initiative, and has offered cash and support to each over flashpoint issues with China, such as the contested South China Sea, which Beijing makes sweeping claims to.
US President Donald Trump's administration wants to contain China even as relations between the two superpower rivals slump to their worst in decades. US Secretary of State Mike Pompeo visited Japan last week to launch a "Quad" alliance against China that includes Japan, India and Australia.
But Beijing has also been busy shoring up its friendships. A rail link from southern Yunnan Province through the mountains of Laos is scheduled to open late next year, while Thailand has bought Chinese tanks, submarines and tech with the promise of more to come.
Chambers said Wang "will likely push for Thailand to purchase more Chinese military hardware as well as try to convince Thailand to agree with China's standpoint regarding the
The Thai government has not floated any big-ticket announcements for Wang's visit, but analysts expect his trip will give momentum to Chinese investments in the Eastern Economic Corridor (EEC) – Thailand's biggest ever infrastructure and trade zone scheme and the government's core plan to transform the country from a manufacturing base to a tech hub.
Last year China replaced Japan as Thailand's biggest source of foreign investment, with bilateral trade now worth nearly $80 billion.
In the short-term, Thailand hopes for an export boost by selling more of its fruit and other farm produce to China and is trying to induce more Chinese firms to take up the EEC's generous tax breaks to get the project off the ground.
China, in turn, is pressing Thailand to end its vacillation over a high-speed rail link from the Laotian border through its southern provinces and into Malaysia.
Progress on the line, which ultimately could link the southern Chinese city of Kunming with Singapore, has sputtered for years, with Thai authorities wobbling over the high interest charges of Chinese loans and the design of the track.
But with the pandemic hammering the economy, Thailand may be ready to bend.
"There have been a lot of recent misgivings about Chinese investments, loans and BRI projects, so [Wang] probably wants to reassure countries like Thailand that everything is fine," said Thitinan Pongsudhirak, director of the Institute of Security and International Studies at Chulalongkorn University in Bangkok.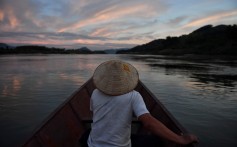 In a sign of progress, last month the Thai cabinet released $380 million to buy Chinese-made bullet trains and tracks for a 252-kilometre stretch from Bangkok to Nakhon Ratchasima to the kingdom's east. Wang would like to sign an official contract for that section of the line during his Bangkok trip so he can return home with good news on BRI projects – which have received a mixed reception in the Mekong region outside the virtual client states of Laos and
Whether he is able to meet Prayuth on Thursday as planned is in question, with pro-democracy demonstrators massing nearby.
But his presence during the pandemic fallout and during another round of political turbulence casts China as "a big friend" during a difficult time, Thitinan said.
The content placement services that you can find offered by TOP are high quality services that specifically feature a variety of global geographic locations for you to connect with. When getting the best for content placement, TOP enables you to target diversified audiences anywhere.