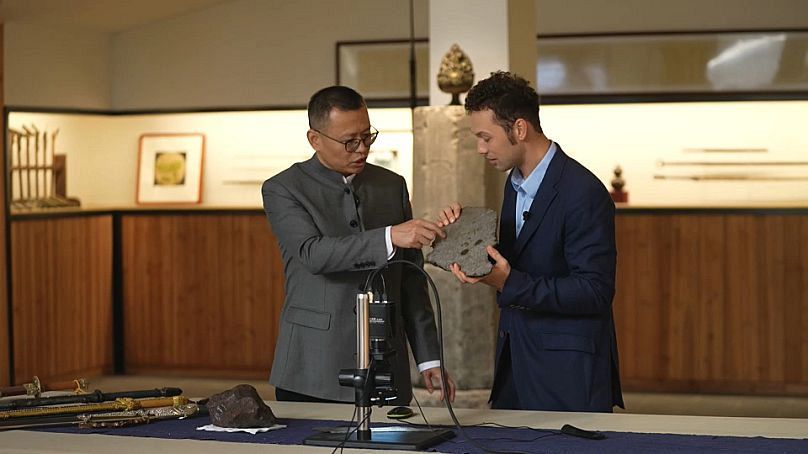 The Longquan sword was the first iron-made Chinese artifact, dating back 2,600 years. During this period, Toledo, Spain, had a reputation for producing high-quality swords when both the Romans and the Carthaginian general Hannibal learned about the city's superior steel supply.
The Longquan sword that is most well-known
One of the most recognizable weapons in China is the Longquan sword. Master swordsmiths continue to this day to practice the old craft that has been recognized as a part of the nation's intangible cultural heritage.
The blades manufactured at Longquan have increased flexibility and strength thanks to the iron sand found there. The longquan blade manufacturers still practice their traditional trade today by using the distinctive minerals discovered in the nearby riverbeds. This is accomplished through a complex forging procedure that involves continuously reheating the iron to eliminate impurities and create steel.
Swords were formerly the specialty of China's top artisans. After being hammered, the sides of the blade are shaped and ground with a special knife. The swordsmith employs all of his abilities to change the thickness and angle of the blade in order to achieve the ideal balance, which is a great task. It is then polished and embellished after being reheated and quenched a final time.
One of the most well-known swordsmiths in Longquan is  Xiaojun. He restored a lot of old methods since he was so passionate about tradition. The famous meteoric iron used to make sky swords is known as the Weidmannstatn design. After cooling for hundreds of millions of years, iron and nickel crystallized. It is incredibly intricate affirms Xiaojun.
Toledo has a long history of producing high-quality steel, which made it a hub for the manufacture of swords. The secret that makes the swords of this region of Spain so feared and revered around the world is one that the city's blade craftsmen have spent ages refining.
The only blacksmith in town still forging swords by hand is Julio Ramirez. One of the few remaining connections to a custom that dates back more than two millennia.
Toledo steel is a process that involves joining two layers of steel from the outside, on the cutting edges, and an inside layer of iron. By doing this, an extremely tough and flexible blade is produced. This is how Toledo steel differs from other very resilient steels.
Julio heats the blade to roughly 800°C before hardening it in order to give it flexibility and resistance. Then he uses water to chill it, steel gains its strength from this.
At a much lower temperature, it is then brought back to the forge.
"We need to heat it up once more, to about 250 degrees. By doing this, the steel's inherent tensions will be released, resulting in a more flexible blade.
After the blades had been made, Julio and the rest of the crew at Espadas Mariano Zamorano cleaned and repaired them. The majority of the company's clients are tourists.
Swords have long been deeply ingrained in both Asian and European cultures. Swords are created differently than other weapons, despite their outward appearance as weapons.
Director of the Toledo-based family company Espadas Mariano Zamorano Santiago Encinas says, "They are the same, but they are two different weapons. The European sword has no advantage because it was made to be used to hit rather than cut.
More than just a weapon
In China, there is a proverb that states that a good dance needs a nice prop. Because of this, dancers are frequently depicted in China with objects in their hands. This strengthens the point they are trying to make.
Hu Yang, a major dancer of the China National Opera and Dance Drama Theatre, claims that the sword is both a weapon and more than just a weapon in Chinese culture. "The sword is not an independent entity. It is a part of our culture.
In actuality, swords are well-liked since they represent various emotions and also denote the character's rank.
Hu Yang continues, "Confucius introduced the sword into formal language from a weapon as a sign of might. When it came to (Chinese poet) Li Bai, he wrote his poetry using the sword as a brush. In order to display its intellectual side, creativity needs be combined with cultural content.
Revisit the past furiously
Swords are still used realistically in Spain even though they still have symbolic meaning in China. Actors from throughout the nation frequently bring history to life in the opulent beauty of Almodóvar del Rio Castle.
The medieval battle collection by Bohort Zona Sur gives great attention to detail in every aspect of fighting, armor, and weaponry.
"Our armor is based on Middle Ages technology, often from the 14th to the 16th century. It is 100 percent genuine. Regardless of your education and experience, it will undoubtedly be beneficial to you, and you will develop the necessary skills as you go "Sam Chapman, a medieval fighter, says.
"This sport is fantastic because it challenges you to your physical and mental limitations. Rafael Maldonado, a medieval combatant, claims that it "feels like you're doing something historical, with thirty kilos of armor, everything about it is epic and fantastic."