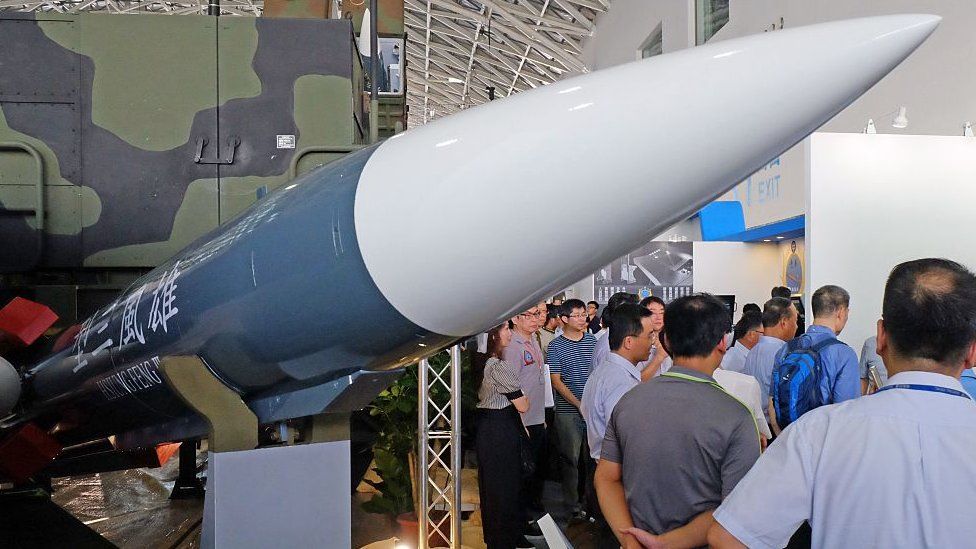 A device used by the military for its missiles that was sent to China for repair has prompted calls for tighter security in Taiwan.
A launch measuring optical instrument for Taiwan's Hsiung-Feng III anti-ship missiles was sent to its European maker.
Then, according to Taiwanese media, it was returned to Taiwan from the eastern Chinese province of Shandong.
Beijing increased military action near the island last year.
China has promised to annex Taiwan with force if necessary since it views the island as a part of its territory. Taiwan is ruled by itself and regards itself as separate from the mainland.
In order to strengthen Taiwan's defense in the case of a Beijing attack, President Tsai Ing-wen has unveiled new initiatives, including a one-year increase of the four-month military service requirement.
The corporation that originally provided the equipment to the Taiwanese military, according to a statement from Taiwan's National Chung-Shan Institute of Science and Technology, had shipped it to Switzerland.
It was then diverted to the manufacturer's Asia maintenance facility in the Chinese city of Qingdao for repair, according to the report.
The institute claimed there were no concerns about potential information leaks because memory cards had been removed before the gadget was sent to Europe and information security tests had been performed on it after its return.
Although the optical devices were not direct missile components, Dr. Su Tzu-yun of Taiwan's Institute of Defence Security Research said Taiwan still needed to be more careful.
Taiwan needs to regulate contracts more strictly and carefully, he said. We would certainly not want such equipment transferred to China for repair, of course.
A theodolite is an instrument used to determine angles and directions of launchers as well as the specific geographic location of missile launches, according to Dr. Su.
As with purchasing a computer, he noted, "it's a desk accessory to go with the machine."
He claimed the maker was unaware the gadgets, which were bought by a supplier in Taiwan and then employed for military reasons.
Concerns about the safety of Taiwan's missile program have previously been voiced. Three employees of two Taiwanese suppliers were given prison terms ranging from four to ten years last year for using Chinese goods to fabricate missile components that were meant to be fabricated by US manufacturers.