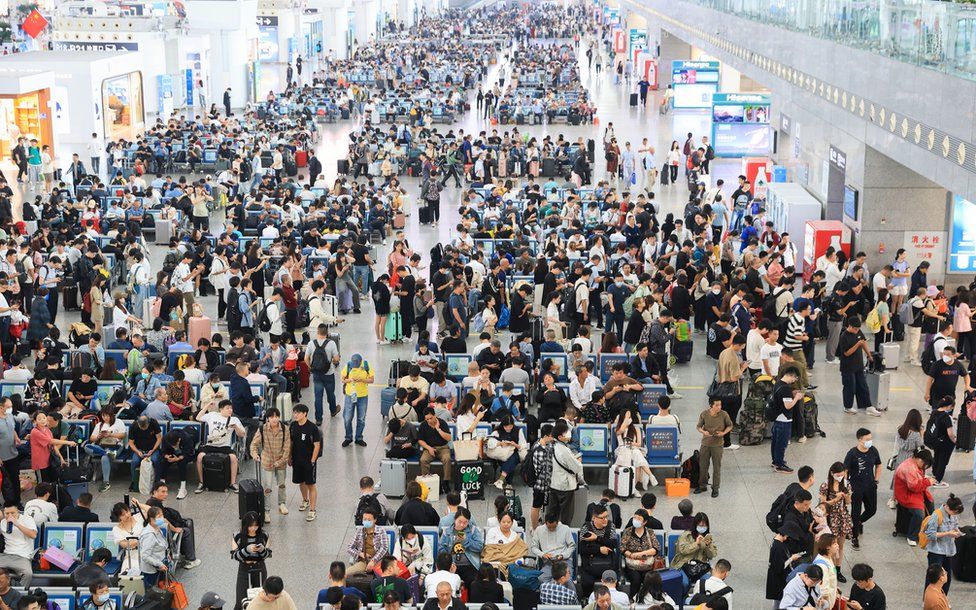 Despite China's sluggish economy, its people's desire to travel remains strong. The country is currently experiencing a surge in travel during the annual "Golden Week" holiday, even amidst slow economic growth, high youth unemployment, and a troubled property market.
China's civil aviation regulator reports that over 21 million people will take flights during this 10-day holiday period, which began on Friday. This figure includes 14,000 domestic flights per day, as young Chinese individuals with limited budgets opt to explore destinations closer to home.
This year's Golden Week, coinciding with both the mid-autumn festival and National Day celebrations, has become the longest break of the year. It is the second Golden Week holiday of the year, following a shorter break in May. However, with China's economy not showing significant signs of recovery since then, businesses remain hopeful but cautious.
Travelers are also being frugal with their spending. Young Chinese travelers, eager to embark on "revenge travel" after extended Covid-19 lockdowns, are sharing tips on social media for making the most of their holiday. For example, Gaoyang plans to visit nine Chinese cities, covering a total of 6,000 km in just eight days, considering himself a "special forces traveler" who roughs it out to fit a packed yet affordable holiday schedule, including scaling four mountains.
Others are sharing hour-by-hour itineraries, detailed budget breakdowns, and recommendations for budget-friendly dining options. Hashtags such as "trekking from China's south to north" and "budget travel" are trending on platforms like Weibo.
China's national railway has announced plans to operate over 12,000 trains daily during the holiday, a 20% increase from normal days, to meet the heightened demand. Online travel agency Trip.com reports an 88% surge in domestic travel bookings for Golden Week compared to the previous week, and a more than fourfold increase compared to the same period last year.
Popular domestic destinations include Beijing, Shanghai, Chengdu, and Hangzhou, with the latter currently hosting the Asian Games. Cities in the northwest, known for their picturesque autumn scenery, such as Burqin and Urumqi in Xinjiang, are also anticipating a higher influx of tourists, according to Trip.com.
Despite the increased travel activity, Gary Bowerman, director of travel marketing firm Check-in Asia, cautions that the average spending per traveler may not match the surge in traffic, as observed during the last Golden Week break in May when domestic travel had rebounded to pre-pandemic levels.
Local businesses that are vying for tourism dollars seem well aware of shrunken budgets. Some travel agencies are promoting "pure fun, no shopping" group tours to assure prospective customers that there are no hidden costs. Chinese food delivery and e-commerce app Dianping is encouraging people to take a nationwide food tour: "The motherland is so big, let's go eat," reads the tagline on one of its pages on Weibo.
But the deals haven't tempted some, such as public relations executive Sally. The 30-year-old says she decided to stay put this Golden Week, instead taking only a day-trip with her friends to the outskirts of Beijing, where she lives.
"There is so much to see and explore within China. Of course we all want to enjoy ourselves, but the thought of spending money and the guilt that comes with it doesn't interest me," she said.
But on the whole, otherwise cautious consumers appear to be willing to splurge on one-time expenses like travel, said Steve Saxon, who leads consulting firm McKinsey's travel practice in Asia. While domestic travel is certainly a boost for the sluggish economy, he said it's not yet clear whether this is still the result of "pent-up demand because of travel restrictions" that had been in place for three years, or if the "demand will be long-lasting".
This is also the first long holiday since China ended restrictions on people travelling outside of the country – it lifted a ban on group tours to more than 70 countries in August.
Many individuals still have reservations about traveling outside of China, as data from the travel analytics firm ForwardKeys indicates a 40% decrease in outbound travel compared to 2019. However, there appears to be a growing trend in momentum, with Malaysia, Thailand, and South Korea expected to host a larger number of Chinese tourists this week compared to Golden Week in 2019.
Journalist Yucca Yu, who has planned an eight-day trip to Malaysia, including hiking up the country's highest mountain, Mount Kinabalu, shared his motivation, saying, "I wanted to go abroad because anywhere in China would be so overcrowded." He chose Southeast Asia to keep flight costs in check, stating, "I didn't want to spend 'too much' on flights."
He added, "I suppose people like me are still engaging in 'revenge travel' because I haven't traveled abroad for leisure in years. I'll have to cut back on other aspects of life – living frugally while indulging in travel."